fjord CPJ
fjord CPJ / 100 selected compositons of CPJ Mujik
Akihiko 'JOKER' Matsui has just added 50 elaborately selected tunes to former 50 compositions of 'mujik CPJ' to make it a fabulous collection of awesome 100 CPJ unbeatable killer compositions that are categorized into 10 different concepts!

---
☆Junky Funk (CPJ written for keyboards)
---
1.JF001.Junky Funk (東京, Japan) 
video1
video2
video3

2.JF002.Funky Junk (New York,NY.U.S.A.)
video1
video2

3.JF003.Straight Flash (Berlin,Germany) 
video1
video2
video3

4.JF004.Jack-in-the-Box (Graz, Austria) 
video1

5.JF005.J&F (Boston,MA.U.S.A) 
video1

6.JF006.Metropolis (Scolopi, Italy)
video1

7.JF007.Out-of-the-Blue (Coll Boixols,Spain) 
video1
video2

8.JF008.Cyberjaya (Cyberjaya, Malaysia)
video1

9.JF009.Brand New Life (Burmingham,U.K.)
video1
video2

10.JF010.Fujack (Toronto,Canada)
---
☆Line Drive (CPJ written for guitar)
---
11.LD001.Jubilance (Praha, Czech)
12.LD002.Flamboyance (Budapest, Hungary)
13.LD003.Clairvoyance (Visegrád, Hungary)
14.LD004.Framboise (Königstein, Germany)
15.LD005.Reflections (Grundlsee, Austria)
16.LD006.Fondant Fountain (Karlovy Vary, Czech)
17.LD007.Jazz Skippin'(四万十, Japan)
18.LD008.Asteroid Belt (Lezzeno, Italy)
19.LD009.Line Drive (Key West, FL. U.S.A.)
20.LD010.Chess on the Deck (Nakhodka, Russia)
---
☆Jackpot (CPJ written for bass)
---
21.JP001.Jackpot (Woolloomooloo, NSW. Australia)
22.JP002.Funky Funk (London, U.K.)
23.JP003.JL723 (Kuala Lumpur, Malaysia)
24.JP004.Fantail Forest (Manapouri, New Zealand)
25.JP005.Jazz Tsunagi (Bohinj, Slovenia)
26.JP006.Jazuka? (蛇塚, Japan)
27.JP007.Jakuzure (蛇崩, Japan)
28.JP008.Endless Daylight (Lysefjord, Norway)
29.JP009.Groove K (Perth, WA. Australia)
30.JP010.Hip Jive (Huopalahti, Finland)
---
☆Groove X (CPJ written for drums)
---
31.GX001.Groove X (Pitvicka Jezera, Croatia)
32.GX002.Jive Five (Mostar, Bosnia-Herzegovina)
33.GX003.Jive Seven (Kotor, Montenegro)
34.GX004.Oceanfront (丹後, Japan)
35.GX005.Ondo Ondo (音戸, Japan)
36.GX006.Fireworks (鵜殿, Japan)
37.GX007.Jindaiji (深大寺, Japan)
38.GX008.Nishiharuchka (西春近, Japan)
39.GX009.High-Energy Stuff (Bondai, NSW. Australia)
40.GX010.Getaway Gateway (München, Germany)
---
☆Fjord Sound (CPJ written for vocal)
---
41.FS001.The Colors of Light (Obersee, Germany)
42.FS002.Emerald Valley (接岨峡, Japan)
43.FS003.Bird's Eye Prospect (Mesocco, Switzerland)
44.FS004.Limonnaya (Khabarovsk, Russia)
45.FS005.Firefly (Silver Spring,MD.U.S.A.)
46.FS006.Fly Blind (Ålesund, Norway)
47.FS007.Lakes & Forests' View (Joensuu, Finland)
48.FS008.Labyrinth (七会, Japan)
49.FS009.Fjord Sound (Geirangerfjord, Norway)
50.FS010.Far East Jingle (京都, Japan)
---
☆Kaleidoscape (J-POP CPJ)
---
51.KS001.かれいどすけーぷ (馬ヶ背, Japan)
52.KS002.二度とないこと(仏ヶ浦, Japan)
53.KS003.輝かしいこの世界 (摩周湖, Japan)
54.KS004.青い坂を登り返す夏 (五色沼, Japan)
55.KS005.春雷 (榛名湖, Japan)
56.KS006.光 (浪江, Japan)
57.KS007.迷路とパズルの町 (Wanaka, New Zealand)
58.KS008.フィヨルドへ続く道 (Doubtful Sound, N. Z.)
59.KS009.セベレ峠の夢 (Tatranska Javorina, Slovakia)
60.KS010.アオスジアゲハ舞う丘へ (西伊豆, Japan)
---
☆Flydalsjuvet Mujik  (high-energy CPJ)
---
61.FJ001.Flydalsjuvet (Flydalsjuvet, Norway)
62.FJ002.Kingfisher (Milford Sound, New Zealand)
63.FJ003.Past Dospat Pass (Dospat, Bulgaria)
64.FJ004.First Fast Jive (Keswick, U.K.)
65.FJ005.Jump-start Japan (橋杭岩, Japan)
66.FJ006.Oravsky Castle (Orava, Slovakia)
67.FJ007.Rocca Resort Samba (Kurzhali, Bulgaria)
68.FJ008.Green Beer Fuzz (Spiskka Kapitula, Slovakia)
69.FJ009.Artistic Compartment (København, Denmark)
70.FJ010.Jellyfish (小土肥, Japan)
---
☆
Jyväsjärvi (
ECMish CPJ)
---
71.JJ001.In the Midst of the Dolomites (Cadore, Italy)
72.JJ002.Reminiscence (Vaduz, Liechtenstein)
73.JJ003.Eastern Danube Serenity (Ruce, Bulgaria)
74.JJ004.Crete Senesi (Crete Senesi, Italy)
75.JJ005.Maria Taferl Trek Uphill (Maria Taferl, Austria)
76.JJ006.Landscapes of Transient Drifts (富士、Japan)
77.JJ007.Deep in the Swiss Alps (Gstaad, Swtzerland)
78.JJ008.Crystal Skyscrapers (San Francisco, CA.U.S.A.)
79.JJ009.Pikku Hungaria (Helsinki, Finland)
80.JJ010.Jyväsjärvi (Jyväskylä, Finland)
---
☆Южен Фолк дЖаз (jazz-folk CPJ)
---
81.ФЖ001.Жираф Форт (Велико Търново,Bulgaria)
82.ФЖ002.Танца на фъстаците (Червен, Bulgaria)
83.ФЖ003.Пролетен Цъфтеж(Джулюница,Bulgaria)
84.ФЖ004.Белиянске Татри (Czarna Góra,Poland)
85.ФЖ005.Стрбске Пресо (Ctrbske Pleso,Slovakia)
86.ФЖ006.Целена Лагуна (Domasa Dobra, Slovakia)
87.ФЖ007.Колина да Фажа (Faja da Ovelha, Portugal)
88.ФЖ008.Жива Фантазия (Люутиброд, Bulgaria)
89.ФЖ009.Южен Фолк дЖаз (三軒茶屋, Japan)
90.ФЖ010.в София (София, Bulgaria)
---
☆
Déjà Vu Mujik 
(jazz vocal CPJ)
---
91.DV001.Ju-la-pi-lu-ka-cha-di (Sligo Creek,MD.U.S.A.)
92.DV002.
Idiosyncrasy(Umeå,Sweden)
93.DV003.
Vinterhavn(Trondheim, Norway)

94.DV004.
Highlights  of Citylights (Cambridge,MA.U.S.A.)
95.DV005.Tension City (Forest Hills,MA.U.S.A.)
96.DV006.Swifty (Irkutsk, Russia)
97.DV007.Drowsiness (指扇, Japan)
98.DV008.Bumpy Vamp (Seoul, Korea)
99.DV009.Take the F train to J St.(Brooklin,NY.U.S.A.)
100.DV010.Déjà Vu (Paris, France)
---

mujik CPJ = the compositions of CPJ Mujik
Those of you who are interested in performing the toughest of the toughies on the face of the earth, at least, THIS IS IT!
It will lead you to the days of the hardest possible struggle in practicing every aspect of music, harmony, melody, rhythms,  written and to-be-improvised. You are definitely in for a surprise getting to know that the coolest sound derives from the toughest music figures! is the sheet music of the best 50 CPJ compositions.
松井秋彦の半世紀の集大成の制作のひとつ、CPJの楽曲から珠玉の50曲を厳選した譜面集です!
「宇宙一複雑だが、楽しく飽きないジャズ譜面集」
音世界のトリックアート、CPJの種明かしを余すところなくしているこの超絶譜面集が、
2014年11月27日発売、このサイトでも注文可です!
定価¥7,777(外税)
All compositions by Akihiko 'JOKER' Matsui.  (作編曲/ 松井秋彦)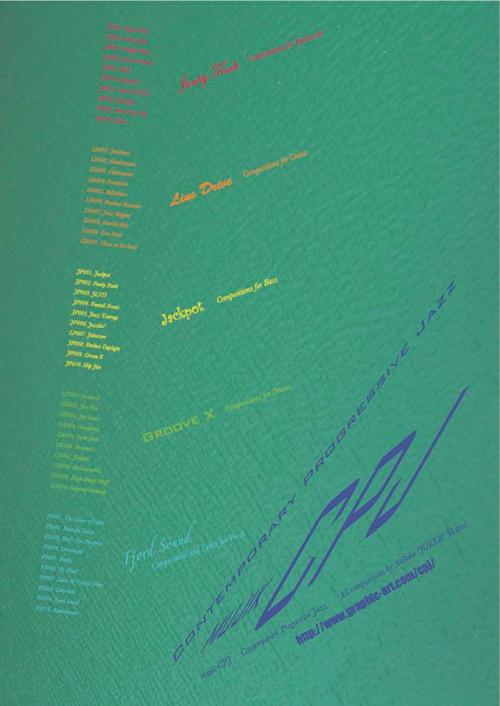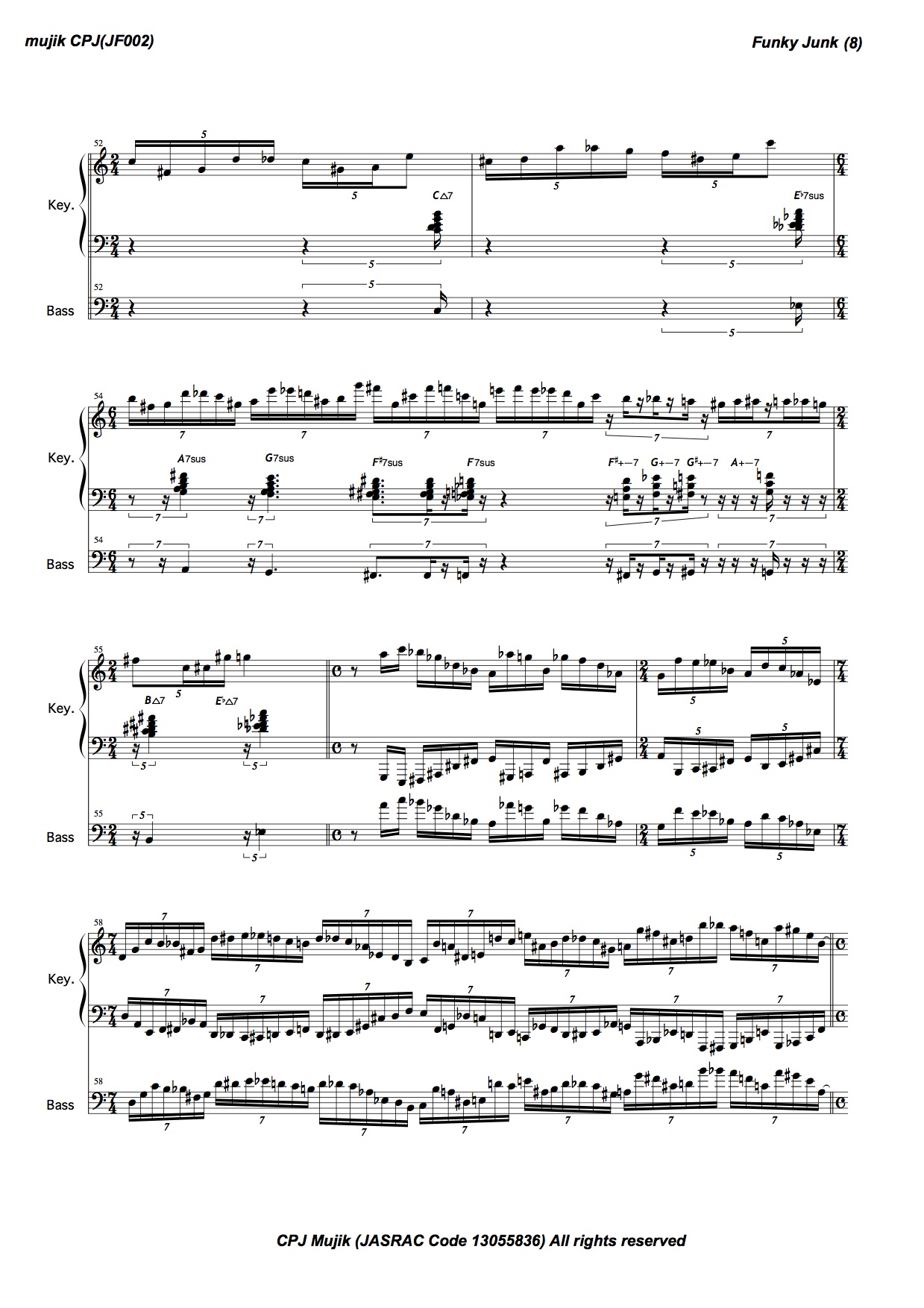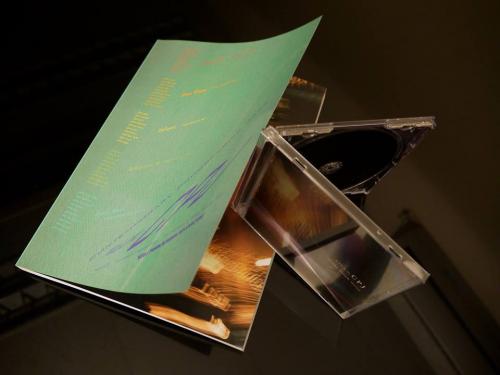 mujik CPJ +album CPJ

 セット価格 ¥10,000(内税)
---