profile
KAZUMI IKENAGA, Drummer
Born in Kyoto, Japan in1961.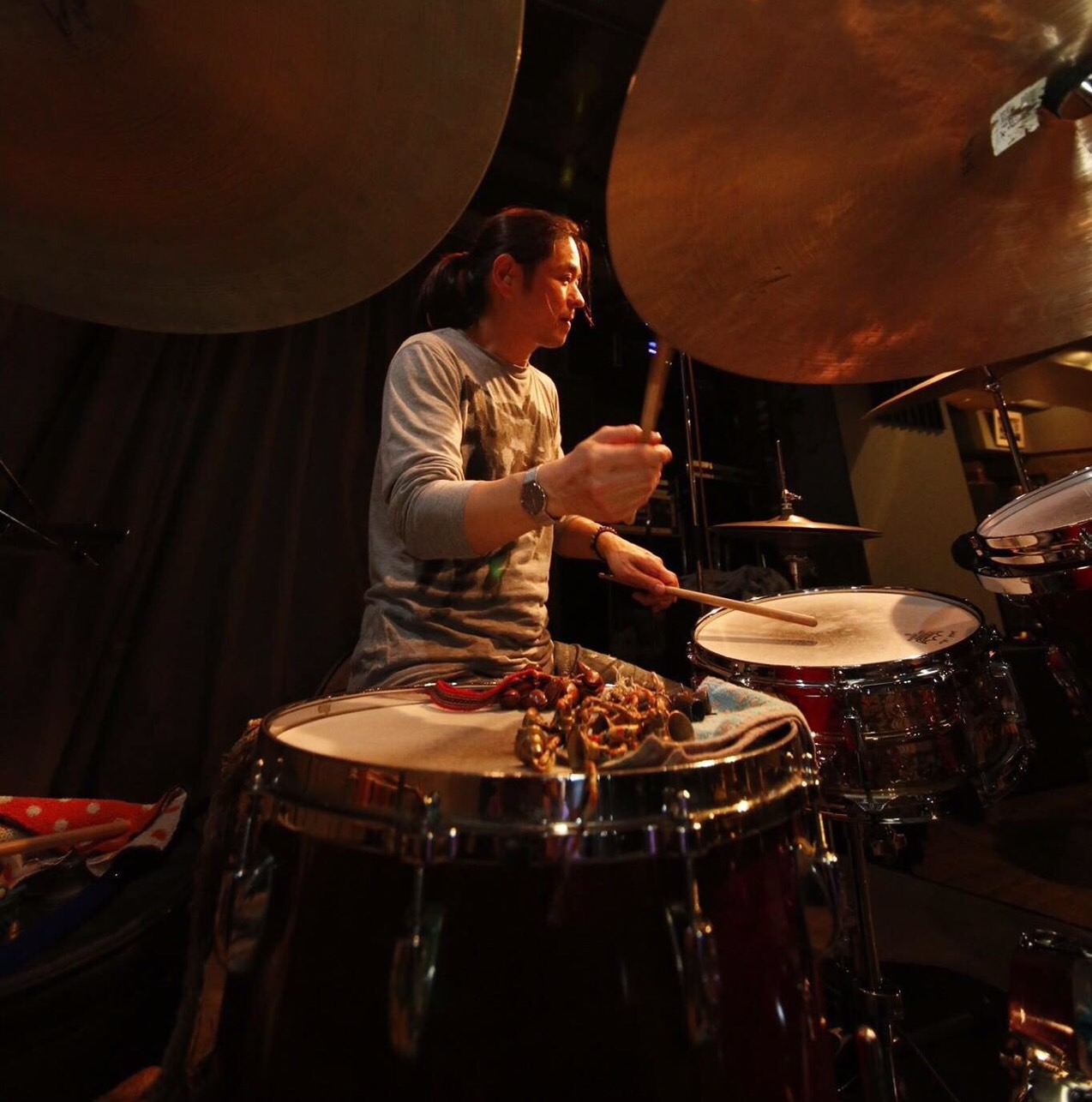 Kazumi started playing guitar & piano when he was age12.
At age 13 he switched to the drums.
He started his carerr as professional studio drummer when he was age 19.
He has been a professional drummer for over 30 years, performing all kinds of music styles. Although currently Kazumi mainly perform modern jazz music(focused on after Bill Evans school) and ECM type music. He has performed in numerous Jazz festivals and toured with various recording artists world wide.
Performance with: Alejandro Santos(Argentine), Mike Nock(Australia), Javier Girroto,
Marchello Allulli, Alfred Ponissi, David Boato, Ales Tavollatti(Italy),
Victor Merlo(Spain), Hiroyuki Namba, Makoto Aoyagi, Misako Kano,
Isao Suzuki, Takashi"Gon"Mizuhashi, Hideto Kanai(Japan), Chris Cheek, Bert Seager,Othello Molineaux, Tom Pierson, Kurt Resenwinkel,
Matt Garrrison,Samus Blake, Mike Noonam, Ray Parker,Dave Pietro(U.S),
George Donchev(Bulgaria), Christian Vuust(Denmark), Mika Pohjola(Finland),
Ole Mathisen(Norway)
In 1986 Kazumi moved to Tokyo, joined the group of Isao Suzuki, Hideto Kanai.
In 1988 he was awarded a full scholarship to study at Berklee College of Music in Boston.
He lived in the United States for 6 years.
Since then, he has been well known in Boston for being one of the most musical, and creative drummer in the music scene.
In 1992 he has been selected as "Artists-in-Residence"(supported by National Endowment for the Arts) for ten month in the community of Decorah, IA in their public schools. At Luther College he joined the " Unified Jazz Ensemble" as a drummer and engaged in teaching and band directing duties.
After that he kept playing as free-lance drummmer in Boston & N.Y.C.and returned to Japan in 1994 due to health problem.
Then he moved back to his home town in Kyoto. A year later he relocated to Yokohama to continue his career. Kazumi has been organizing tour and workshops (inviting musicians from United States and Europe to perform with)in Japan. Also visited U.S and Europe to perform with various musicians.
-Teaching Experience-
Senzoku Gakuen College 2002-present
AN Music School(Japan)1995-present
Luther College in Decorah, Iowa(U.S)1992-'93
Groton Private School, Boston MA(U.S.A)1991-'92
Indian Hill Arts, Littleton MA(U.S)1991-'92
YAMAHA Music Foundation(Japan)1980-'89
Recent Recordings(releases)include:
KJB"A closer look"IM-2036
Naomi&Goro-P.S I forgot OBCB-0009
Naomi&Goro-HOME 333d-26
APJ-e VGDBRZ0022
Masatoshi Mizuno- Denki Standardd jazz2 KICJ499
KJB"Openings"IM-2033
Hiroko Takada Quaetet"elma"RKC-J-2010
Makoto Aoyagi"Absurdity"JLCL1002
Yasunori Ponchan Suzuki "Love and Respect"ACSJ-60001
APJ -Labyrinthos KOLA005
"State of the Art" FMCDLP01
Kazumi Ikenaga Trio-"Now and Then"
Kazumi Ikenaga trio with Bert Seager -"Portrait in Ine" R0100634
Makoto Aoyagi "Triframe" Sub-1011
Hitomi Noma-"Hitomi Sings Emily" Skip-2002
Chunk-"Chunk" YJP1998
Sofie Duner Orchestra-"Orange" Bscpcd9
Contact FAX :(81)45-594-5379